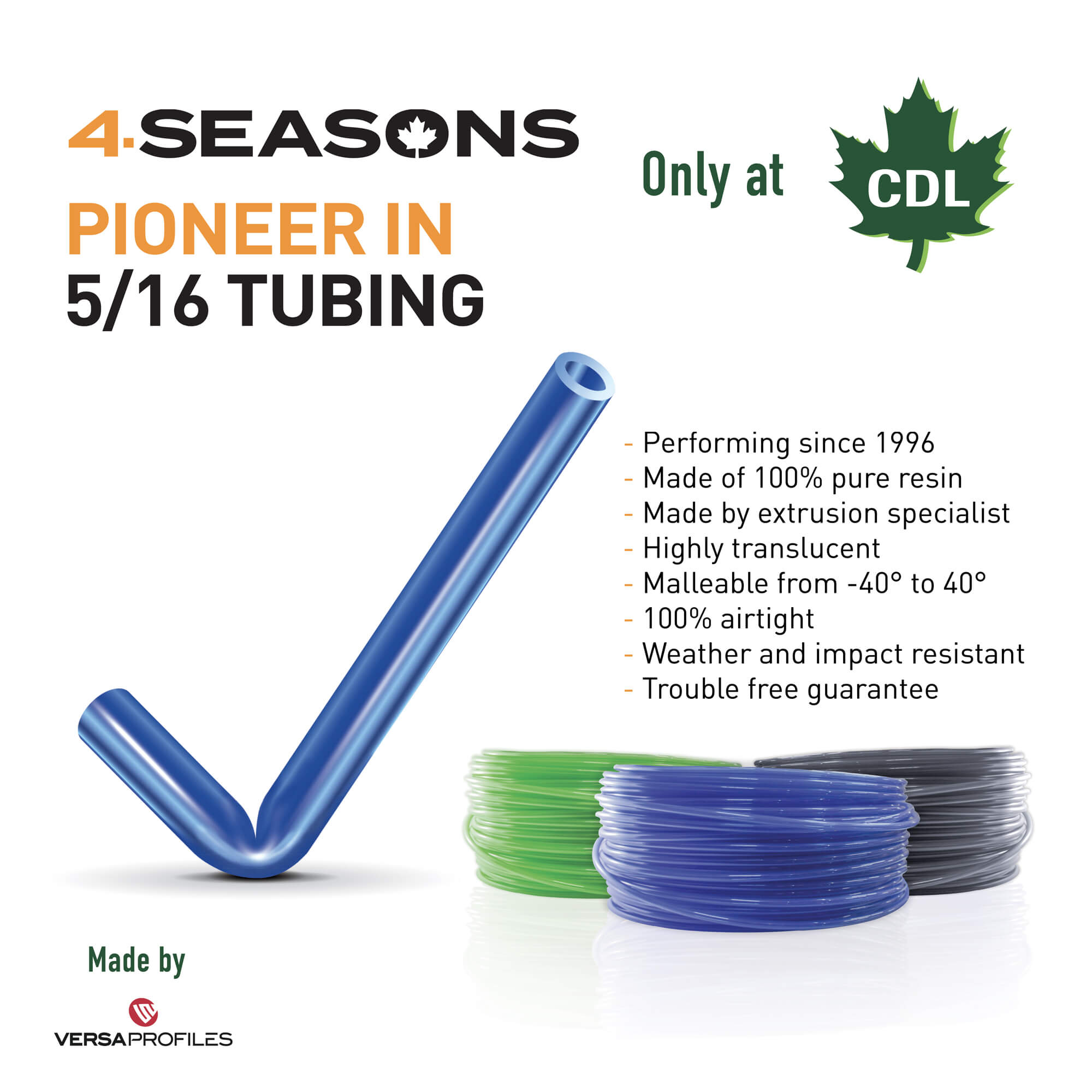 5/16″ 4-Seasons tubing TM for sugar bush has many advantages. Unparalleled translucency, the longest life in the maple industry, malleable at all temperatures, resistant to falling trees, branches and ice, no loss of tightness on CDL fittings and offers the best guarantee of the market. The 4-Seasons tubing TM  is the reference for maple syrup producers and is a must for your plans to expand, install or replace tubing within your sugar bush.

Only available at CDL Maple Sugaring Equipment
Resin
UV protected food grade polyethylene
Available 4-Seasons tubing TM tubing colours
Blue 
 Green 
 Shadow grey 
Packaging
500 foot coils
Limited warranty
10 years. Additional limited 5 and 15 year options for blue.
Choosing your level of flexibility
The stiffness or flexibility of your tubing will have a direct impact on the reliability and longevity of your system. Before you buy, take the time to assess the benefits of both. With the original 4-Seasons tubing TM, you opt for:
Easier installation in northern regions
Shape memory (recovers its shape after stretching)
Grip fittings that stay in place
Superior transparency
Operational life that defies the laws of physics
Choosing your colour
When choosing the colour of your tubing, the operating temperature – affected by altitude, orientation and exposure to the elements – remains the most important criterion. Are you familiar with the temperature variations within your forest?
Dark colours (shadow grey): by attracting more sun, your lateral lines thaw faster
Light colours (blue, green): by being less exposed to UV rays, tubings are less prone to overheating and bacterial growth
4-Seasons tubing TM is a protected trademark and can't be used without autorisations.
This page contains information from Versaprofiles.
Ask for a quote ›
Ask for a quote or an appointment
6600130805

5/16″ 4-Seasons tubing Blue 500' 10 year

6600127209

5/16″ 4-Seasons tubing Blue 500' 15 year

6600137510D

5/16″ 4-Seasons tubing Green 500' 10 year

6600137515

5/16″ 4-Seasons tubing Green 500' 15 year

6600144010

5/16″ 4-Seasons tubing Shadow grey 500' 10 year

6600142415

5/16″ 4-Seasons tubing Shadow grey 500' 15 year
Categories of related products