Huge potential for CDL's sap division in baltic and nordic country
CDL has been developing its European market for several years now by selling equipment designed to harvest sap from a range of trees. This market will continue to grow thanks to partners like Ervins Labanovskis, whom you'll hear about today. 
In Latvia, birch sap is generally produced on a small scale, with families and individual producers collecting and processing the sap themselves. The sap is often sold directly to consumers or used to make traditional fermented birch sap beverages.
Ervins Labanovskis, an entrepreneur at heart, is driven by innovation. With a degree in political science and communications, Ervins started his career by working as a civil servant
for a few years. His actions in the community have always been driven by the sustainable development of green projects and his political and social involvement. A few years ago, he was inspired to start a birch sap production business on land that had been in his family since he was a child. Ervins' parents, like many Latvians, harvested birch sap on a small scale for the healthful virtues it had been attributed for generations.
With his innate leadership, Ervins soon envisioned how his sap production and the products derived from that sap could be diversified. Working with his sister Nora in their business, BIRZI, he started planting birch trees, then maple trees, to develop a range of innovative products from their sap, such as a sparkling water and a kombucha-like fermented drink—as well as syrups, of course! All the birch and maple syrup they produce is organic. His wife is also part of the adventure, and their three young ones love keeping up with them in the forest!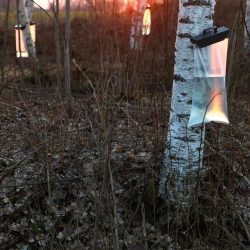 Tapped birches in the forestof Ervins Labanovskis
With the dream of growing the business, he sought out partners who shared his values. In CDL, he found a partner with family values and an innovative spirit that would enable him to buy the equipment he needed to set up production. Spurred on by his entrepreneurial nature, Ervins began to dream of expanding this type of agroforestry more broadly throughout the Baltic and Nordic countries, where the tradition of sap harvesting is well established but still underdeveloped. In doing so, he became a CDL customer as well as a CDL representative for the Baltic and Nordic countries. He sees a great deal of potential for growth in these regions.
"Although birch syrup production in Europe is relatively new, it's growing by leaps and bounds thanks to rising demand for natural, organic sweetened products. My vision for the next few years is to increase production and develop all the potential in the Baltic and Nordic countries."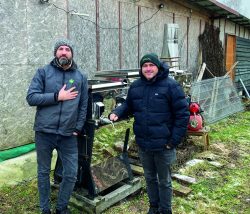 Ervins Labanovskis and Martin Chabot during a delivery to a customer in Latvia
In addition to advancing CDL's market, Ervins aims to develop more products under the BIRZI brand. His intention is to get the region's other producers to ship their sap to his business so that more innovative BIRZI products can be created.
And you can certainly say that Ervins has a great instinct when it comes to sniffing out worthwhile potential for green and sustainable projects! As a forerunner, and with the support of
Latvia's Ministry of Forestry, in 2018 he inaugurated the world's first park of sap-producing trees covering over 32 hectares in Smiltene, the small municipality he calls home. "More than
3,000 visitors have come to the park, where we intend to plant more than 100 varieties of birch, maple, and walnut trees. In the future, visitors will also be able to taste the different types of sap. For now, they can only taste products at our processing plant, which is open to the public. We love sharing our knowledge about sap-producing trees with everyone. Visitors are thrilled with their experience."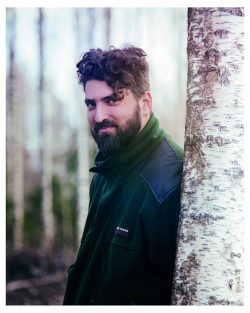 Ervins Labanovskis
According to Latvia's Ministry of Agriculture, in 2018, the country's total birch sap production was estimated at 500 to 600 tonnes. Since 40% of Latvia is forested, the potential for birch sap production is currently under-exploited.
Visit the CDL Sap Division website at https:/www.birchsapcdl.com/ and the BIRZI website at https:/birzi.lv/en.