A look back at the first year of the Master-E with our customers!
The 2023 maple sugaring season is the first on the market for our brand-new 100% electric and automated Master-E evaporator. At the time of writing, the first Master-E evaporators have not only been produced, delivered, and installed by our team, but have also been operated by their owners! This is a source of pride for both CDL and its customers!
Among the first customers of the 2023 season, each made the decision to change their main evaporator to the Master-E for various reasons. Some aimed for a better alternative for the environment, others were convinced by the automation of the evaporator while several changed for the high energy efficiency performance. We asked them to share with you the different reasons behind this technological change.
Thank you to the Côté family, Pascal Charette, Annie Ricard, the Blais family and all our 2023 Master-E clients for your trust: you are pioneers! CDL is now taking Master-E orders for the 2024 sugaring season—yours awaits!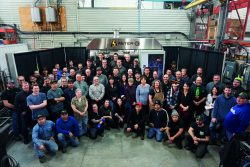 Our team in front of the first Master-E manufactured
Érablière Côté et fils inc. Roxton Pond, Estrie region
Sébastien Côté of Érablière Côté et Fils Inc. was among the first customers to install the Master-E. Their sugar shack is located in Roxton Pond in the Estrie region. With nearly 100,000 taps, he had been readying their sugar shack for the new evaporator for nearly two years.
Production costs and ease of operation were the main reasons for the change. Sébastien estimates it now costs them $4 to $5 in electrical power to produce a barrel instead of $50 to $60 with their old oil evaporator.
The Master-E's ease of operation makes it almost impossible to ruin a batch of syrup. Operators only need to program the desired Brix, and everything else is taken care of. So much so that Sébastien now delegates the boiling step to team members who had never operated an evaporator before the Master-E arrived at their sugar shack!
" This business is too big for just one Master-E. This year I'm keeping my oil evaporator to boil the extra sap, but next year I can tell you there'll be another Master-E on its way to our sugar shack!" — Sébastien Côté, Érablière Côté et fils inc.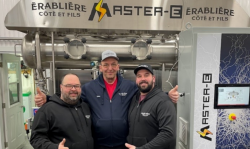 From left to right: Mikael Ruest, Michel Côté and Sébastien Côté
Pascal Charette and Annie Ricard Saint-Magloire, Chaudière-Appalaches region
Pascal Charette and Annie Ricard installed a Master-E for their sugar bush in Saint-Magloire, in the Chaudière-Appalaches region, right before the 2023 maple sugaring season. Their facilities filter, concentrate, and evaporate the sap from more than 46,000 taps, 15,000 of which are right next to the sugar shack. Mr. Charette says they chose to transition to electricity because they wanted to control production costs and reduce the business's greenhouse gas (GHG) emissions.
"To keep the business profitable, I needed to control production costs. The Master-E lets us do this, unlike our old oil evaporator, because the price of electricity is far more stable and is lower than the price of fossil fuels." — Pascal Charette
The labour shortage was also a decisive factor in the transition: the Master-E is much easier to operate because it's automated.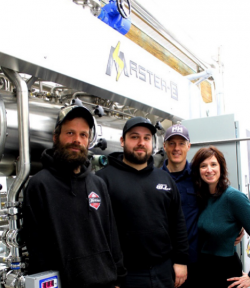 From left to right: Marco Lacasse, William Lamontagne, Pascal Charette and Annie Ricard
ABEL Érable inc. Lambton, Estrie region
Jean-Luc Blais along with Alain Blais and his spouse Évelyne Lacroix of ABEL Érable Inc. in the municipality of Lambton in the Estrie region are among those who made the switch to Master-E for the 2023 maple sugaring season. Although their main sugar bush has 21,000 taps, their new electric evaporator was used to boil the sap from a total of 30,000 taps by adding those from the sugar bush belonging to their son, Rémy Blais, and his spouse, Andrée-Anne Grenier. Until last season, ABEL Érable Inc. had been using a 4'' x 15'' oil evaporator. What convinced them to make the switch was the Master-E's energy efficiency and its automated cleaning.
" The evaporator's automated cleaning was the reason why we chose the Master-E (…) No need to remove the coils, no need to scrub them either. We just press the 'wash' button on the screen, and that's it!" — Rémy Blais, ABEL Érable inc.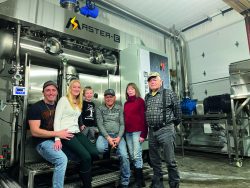 From left to right: Rémy Blais, Andrée-Anne Grenier , Eliot Blais, Alain Blais, Evelyne Lacroix and Jean-Luc Blais
SUBSIDIES AVAILABLE IN QUEBEC
• EcoPerformance
• Three-phase network access program
Our team has the expertise to help you build your case. Some of our customers have received or will receive support from the above.