Four lines of reverse osmosis systems, infinite possibilities!
With maple sugaring, one of the keys to boosting profitability is to have a powerful reverse osmosis system (RO) that suits your needs and can effectively increase the Brix of your sap. This cuts down boiling time significantly, which saves you not only time, but also money since you use less fuel. At CDL, we offer four lines of ROs: heRO, Fendeuse, Hobby, and Nano. With such a range of possibilities, you're sure to find the one for you. We hope this helps you make your decision!
New heRO line
One of CDL's major new products for 2023 is the entirely modular heRO line of ROs. What makes them entirely modular? Imagine the heRO is a new RV you're shopping for: you get to choose a truck (heRO main unit), a fifth wheel (CDL 2.0 post and membrane cart), and then all the options that go along with them. That means you can:
• Buy a new heRO main unit and a new 2.0 post cart;
• Keep your current main unit and change your post cart for the 2.0 version; or
• Change your main unit for a new heRO and keep your current post cart.
But which new heRO should you choose? First, ask yourself if you want a standard (manual) or an Intelligent (automated) system. With the Intelligent model, you can manage all the features of your RO entirely remotely, following defined parameters. Once it's been programmed, your Intelligent RO will operate independently and automatically. It will allow you to remotely monitor your operations through the CDL Intelligence system and gather key performance data in real time—ideal for maple syrup producers who are facing labour shortages, have another job outside of sugaring, or are simply looking for peace of mind. Note that manual heROs can be upgraded to an automated model at any time. Not ready to go 100% automated? A nice, affordable compromise is to add remote-control modules. However, this does not make your RO automated RO, so you'll have to perform the actions one after the other through the interface. In other words, you'll need to use YOUR intelligence instead of letting CDL Intelligence do the work for you! The remote-control modules can be added to all of our RO lines, and even to ROs sold by our competitors!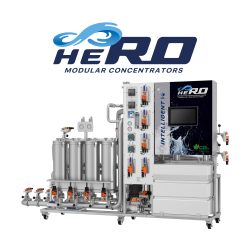 heRO-4T Intelligent Model
The second step is to decide what performance you're looking for. You'll need to choose from three main units: heRO 2T, heRO 3T, and heRO 4T. The "T" represents the number of pressure pumps (turbines) that the main unit can accommodate, and therefore, its maximum capacity (in gallons). This means the heRO 2T can accommodate up to two pressure pumps (choice of 5 HP-Eco, 5 HP, or 7.5 HP), allowing performances between 720 and 3,600 GPH. Similarly, the heRO 3T units can accommodate up to three 7.5 HP pressure pumps, for performances between 1,800 and 5,400 GPH; 4T units can accommodate up to four 7.5 HP pressure pumps, for performances between 1,800 and 7,200 GPH. These high-efficiency ROs offer great flexibility when it comes to configuration, so you'll be covered not only for now, but also for the future. For example, you could order a heRO 3T main unit with two pressure pumps today, then add a third pump in a few years to increase your maximum capacity. If you have expansion plans, don't hesitate to mention them to our experts while they're preparing your quote so they can take them into account
Last but not least: the options! For automated heROs, those might include a touch screen; readings on sap and concentrate Brix; concentrate/filtrate flow and conductivity; pH control during washing; and wastewater neutralization. Before choosing your CDL 2.0 post and membrane cart, you'll first need to know the maximum Brix you want to achieve in one pass, as you can concentrate to 15, 20, 25, or even 30 Brix by using either single or double membranes and adding booster pumps. In all, there are 24 possible configurations of the CDL 2.0 post and membrane cart, whether or not it's automated, so you'll be sure to find the perfect system for your needs and budget. And don't forget, our experts are here to guide you in your selection.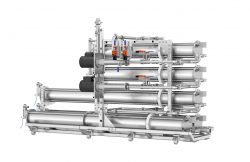 Intelligent RO post cart with 2 single posts and 3 double posts
At CDL, we offer a unique patented system to extend the life of your membranes: a positive recirculation system, which lets you run the system for several hours without any efficiency loss and without premature clogging. You have the same flexibility with the cart. You could purchase a larger CDL 2.0 cart, then add the extra posts and membranes over time to increase the Brix of your concentrate in one pass, since the cart's plumbing will already have everything you need. Thanks to their new design, the carts can easily accommodate booster pumps, which are very useful to reach a high Brix. Some 2.0 cart configurations are also compatible with the Fendeuse Deluxe. Ask your representative!
Fendeuse
Our Fendeuse line has proven its worth for over 20 years here at CDL. It's a must for any maple syrup project! Our patented positive recirculation system is one of the major advantages of this line.
One of the most powerful and reliable ROs on the maple syrup market, the Fendeuse Deluxe is equipped with 5 or 7.5 HP turbines, for a production capacity between 500 and 3,600 GPH. You can choose from five different combinations of pressure pumps (turbines). As for the cart, you can choose from 12 post configurations: two configurations with vertical posts, for concentrates of up to 15 Brix, and 10 configurations with the new CDL 2.0 carts for concentrates of 15, 20, 25, or even 30 Brix in one pass!
Our Fendeuse Classic is the most affordable model in this line. It's also what made CDL famous, thanks to its impressive performance—from 500 to 1,500 GPH depending on the options! This system offers excellent value and remains a favourite because of its ease of use. You can add one to three posts without a cart; they simply remain upright beside the Fendeuse Classic. This system lets your concentrate reach up to 15 Brix in one pass.
Hobby
CDL has also thought of hobbyist producers, hence the line called Hobby! The Vertical Hobby model is suitable for producers with up to 2,000 taps looking for a capacity between 125 and 250 GPH. One or two 4-inch vertical posts can be added to the RO, whether you choose the 120- or 240-volt model.
Nano RO
The Nano RO offers simplicity and efficiency to small producers! The first model in this line was the Nano RO. It has three membranes and a recirculation pump and is very popular with maple syrup producers who have between 50 and 150 taps. It is very affordable and will allow you to reach performances ranging from 10 to 13 GPH and up to 6 Brix in one pass. No more sleepless nights of boiling!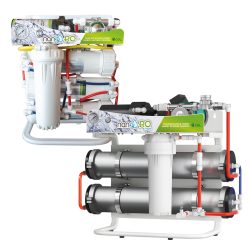 The Nano RO (left) and the new Nano RO Max (right)