Inauguration of the new CDL Technology Center
For some time now, CDL has dreamed of having a single location where it could test its prototypes, continuously improve its equipment, train its employees, and showcase new products for customers year round. This has become a reality thanks to the brand new CDL Technology Centre in Saint-Henri, in the RCM of Bellechasse, on the site of a 2,800-tap sugar bush.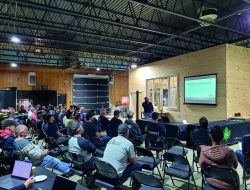 You've probably already heard our mantra: "For maple syrup producers, by maple syrup producers." Although it's not a prerequisite, many of our employees are maple syrup producers themselves. They're always trying to optimize and reinvent processes and equipment, both on and off the job, because at CDL, maple syrup production—and especially innovation—is in our blood! Since the best ideas often come to life when you're "up to your elbows in it," the Centre will give CDL employees an opportunity to test equipment in a real-life setting, on site, all year long! Before the Centre was created, the prototyping and testing phases were conducted either at our production plants, at the Chabot family sugar bush, or at the sugar shack of a number of customers. The Centre, which is close to our main production and distribution facilities in the Bellechasse and Beauce regions, is now among our preferred locations for prototyping and testing.
Prototyping and testing a new piece of equipment involves testing not only its performance multiple times, but also its full range of operation, from start-up to maintenance. Once a prototype's design is considered optimal, it's added to our production line so the first units can be manufactured.
The CDL Technology Centre will also serve as a training facility for our internal sales and technical service teams. Our representatives and technicians will be able to learn how the new products work so they can answer customer questions and master product installation and repair in order to deliver top-notch service on site!