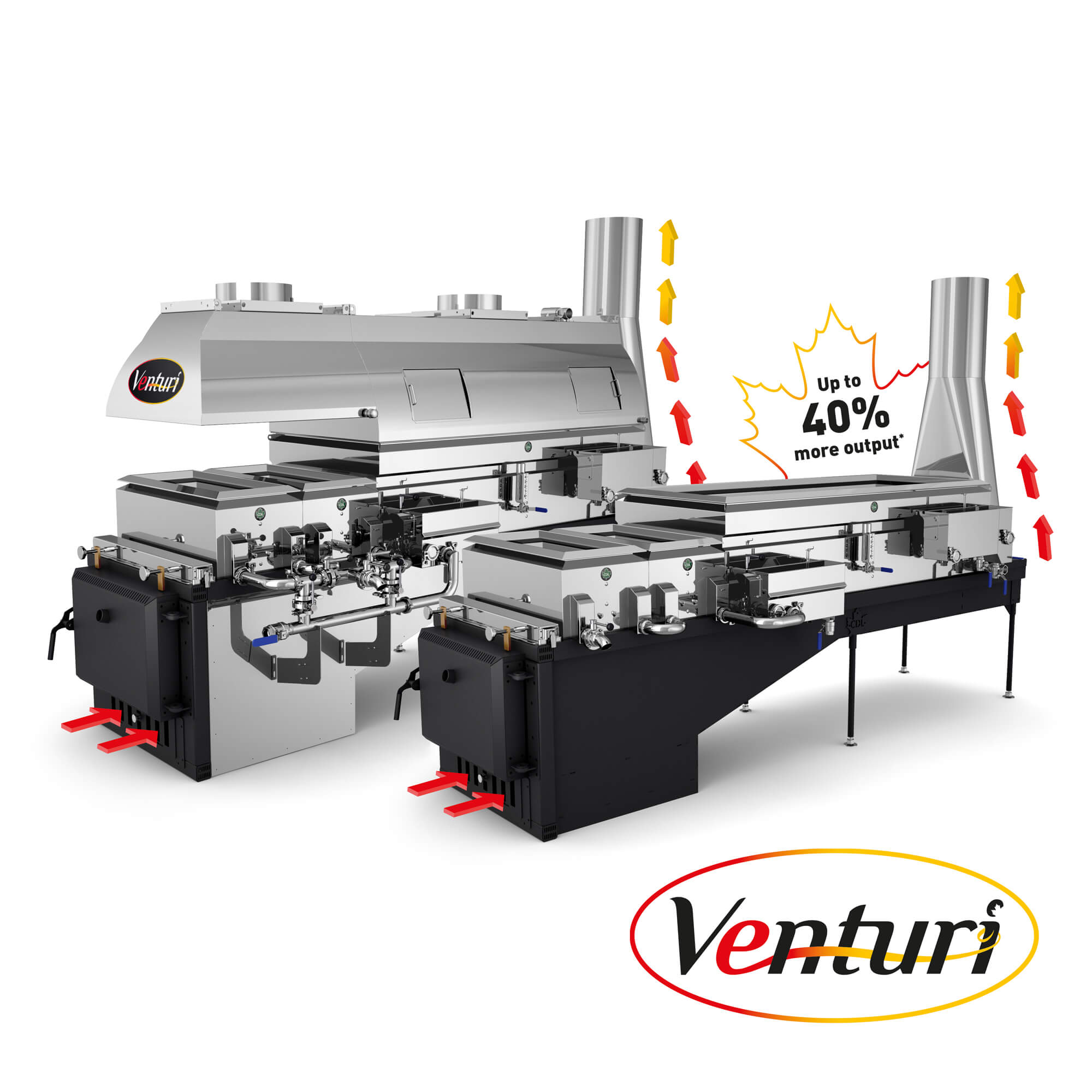 Venturi evaporators
Venturi evaporators
CombustionWood
Dimensions12 models from 2' x 4' to 4' X 15'
Options availablewide choice of options available
The new airtight high performance Venturi evaporators have a unique artificial draft system allowing the intake of primary air at high pressure by suction. By simply and safely increasing the evaporation performance of the evaporator, the Venturi Performance system developed by CDL has many advantages over a positive pressure forced air evaporator. Its front intake of air for combustion decreases the aggressive heat in the first syrup pan while maintaining the maximum combustion power to the rear pan.
Venturi evaporators allow to avoid the problem of overheating of positive pressure combustion while maintaining an aggressive combustion. This can generate a lot of power while preventing hot spots decreasing the accumulation of sugar stone and the risk of burning maple syrup. The boiling intensity can be adjusted in the front of the evaporator, they're easy to operate and the risk of errors are very limited.
Its design allows the opening of the combustion chamber door without risks of burnings and prevents smoke inside the sugar house. With the Venturi evaporators you get full boiling performance in less than 10 minutes after ignition and without preheating smokestack needed.
Venturi evaporators are entirely reversible in a few minutes on-site, no minimum of smokestack height required, a few bricks needed and has adjustable legs included.
With its wide range of options and sizes available and up to 40% more output than a conventional evaporator, there is no doubt that the Venturi CDL range of evaporators is a must for your sugar bush and will meet your needs for the many sugaring seasons to come.
Contact your CDL sales representative today to discover all options available and the highly competitive price range of the new Venturi evaporators by CDL.
Advantages
High evaporation performance at an affordable price
Longer lifetime
Uniform boiling in the front, warmer in the back
No need to preheat smokestack
Full boiling performance after 10 minutes
Perfect functioning even in low pressure(bad winds)
Fully reversible
Fewer bricks needed
Easy to operate and the risk of errors are very limited
No risks of flame flashbacks
Boiling intensity can be adjusted easily
Wide choice of options and sizes available
Ask for a quote ›
Ask for a quote or an appointment
672524

2' x 4' Venturi wood evaporator

672526

2' x 6' Venturi wood evaporator

672528

2' x 8' Venturi wood evaporator

6725258

2 1/2' x 8' Venturi wood evaporator

67252510

2 1/2' x 10' Venturi wood evaporator

6725310

3' x 10' Venturi wood evaporator

6725312

3' x 12' Venturi wood evaporator

6725313

3' x 13' Venturi wood evaporator

6725412

4' x 12' Venturi wood evaporator

6725413

4' x 13' Venturi wood evaporator

6725414

4' x 14' Venturi wood evaporator

6725415

4' x 15' Venturi wood evaporator
Categories of related products